Applications are now closed
Calling all young creatives aged 18+ with a passion for compelling content creation and a deep desire for a career in digital and broadcast media. Our FREE 14-week training programme will grant you instant industry access while teaching you how to excel in production across multiple platforms. You will master the tools and techniques required to succeed in a 'real life' collaborative and fast paced environment.
Our unique training model provides practical hands-on experience in content creation while working within a production company producing content to broadcast standards. Participants will complete the training with a strong working knowledge of the multi-disciplinary skills required for employment in the industry.

Upon completion, trainees will also have the unique opportunity to embark on a further work placement such as a 3-month paid role within Sky, a 9-month paid placement with ITV Global Distribution as a Sales Trainee and entry-level opportunities with one of our many industry partners.

Participants who successfully complete and become alumni will also have the opportunity to be mentored by an industry professional.
About the training:
A unique aspect of our training model is that it puts participants into a 'real-time' work situation during which they work independently, as well as in a tightly knit team, to produce a broadcast show for Sky Arts, under supervision and guidance from experienced professionals at Licklemor Productions.

Licklemor Productions is a BAFTA award winning production company committed to making diverse content for everyone. Content produced by previous trainees can be watched via: https://www.youtube.com/c/LicklemorProductionsYouTube

We strongly advise applicants to read ALL job descriptions before applying for their chosen role. Please note that applications close on Monday the 28th of February 2022, 11.59pm.
Live Info Sessions

We will run informal online info sessions where people who are interested in the programme can meet with a member of the team, learn more about the training, gain tips about the application process and ask any questions they may have. Click here for more info.

We will also be running a live panel discussion with industry professionals who will be offering paid work placements upon training completion. If you're a young creative craving a career in Television, MAMA Youth Project's exclusive FREE panel discussion How to Get Into TV is for you! Get tickets via: https://www.eventbrite.co.uk/e/how-to-get-into-tv-tickets-258020535367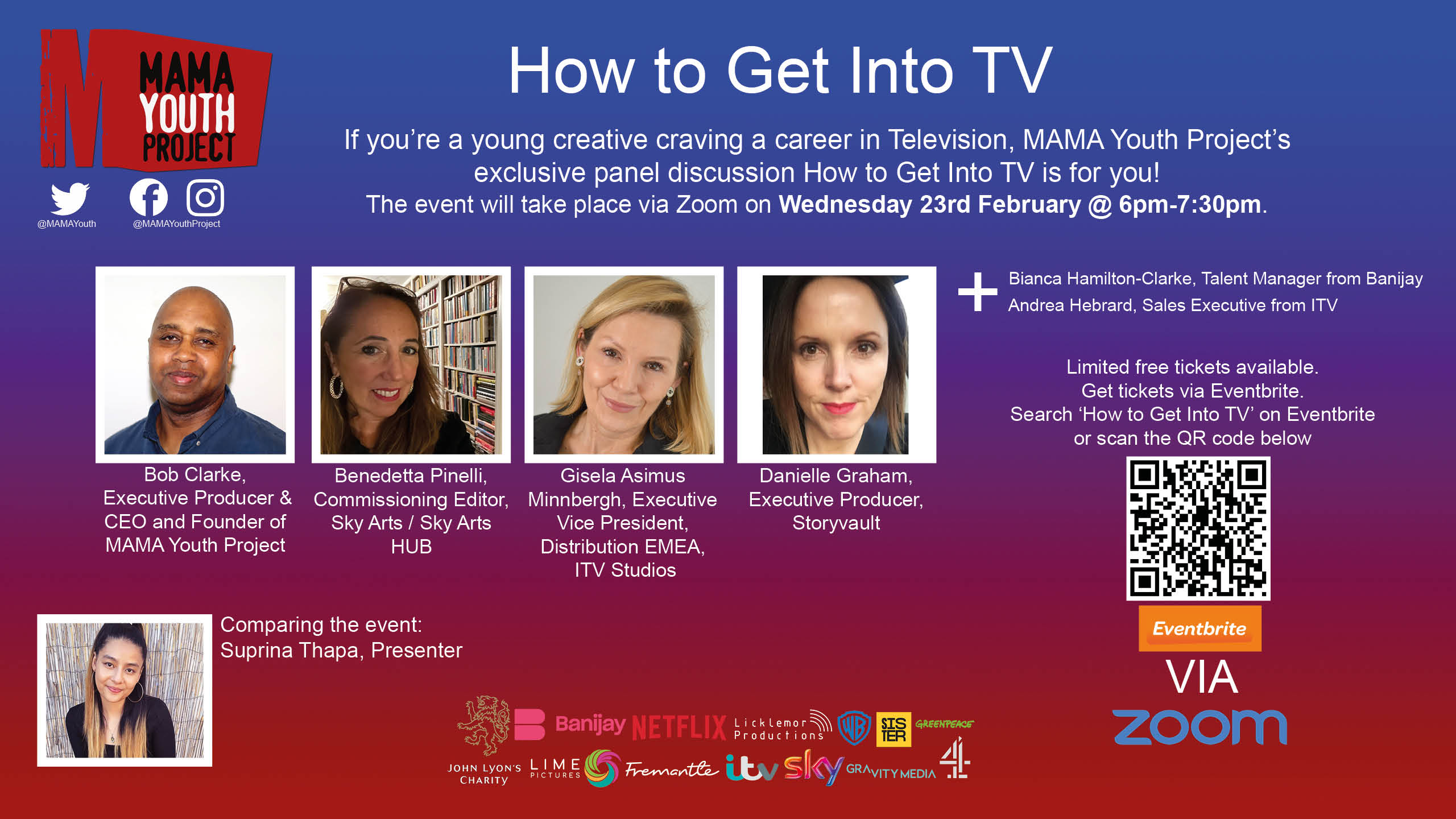 Who is it for?
Applicants must not be in full time / part time education (this includes taking a gap year) or employment if accepted onto the training. They must have been living in the UK for a minimum of a year and be a UK resident with either a British passport or indefinite leave to remain. You should also reside in the UK at the time of application and be aged 18+.

It is primarily aimed at individuals from under-represented backgrounds or challenging backgrounds and those with limited educational or employment opportunities, including unemployed graduates. Individuals who have a passion for the TV and Film industries with little or no experience or contacts working within these industries. MAMA Youth Project is committed to providing a truly inclusive training and working environment.
Duration: The training is full time, Mondays-Fridays and will involve working some weekends. We require flexibility and complete availability from participants. The first 4 weeks is free unpaid training and upon successful completion, you will be eligible to apply for a further 10 weeks of paid training, with 6 months of career follow-up support.

Location: The training takes place at Sky Osterley Campus, TW7 5QD. Due to COVID-19 we will be working in line with government health and safety procedures. Where possible, sessions will take place remotely utilising Zoom and other platforms. Laptops can be provided to participants who do not have the required resources.

Financial Support: Trainees will receive a training allowance (National Minimum Wage). Please note the first 4 weeks (4 weeks and 3 days for Trainee Production Management) of training are not paid and the remaining 10 weeks are paid a month in arrears. We are unable to provide any accommodation for trainees.

If you require additional financial support during the training, you may be eligible to apply for a TV diversity bursary via: https://www.screenskills.com/pitches/screenskills-bursaries-apply-for-funding-to-progress-your-career/e1a40527-ea77-499f-a303-ced2c120d66f/

Training Dates: Training will be from Friday 29th of April 2022 – 5th August 2022. Trainee Production Manager and Trainee Production Coordinators start earlier on Tuesday the 26th of April 2022.
Please note: because of the current pandemic the start date may vary.

Industry Placements: Trainees who are successful in completing the 14 weeks training programme will go onto do a further paid work placement at one of our industry partners, such as a 3-month paid role within Sky, a 9-month paid placement with ITV Global Distribution as a Sales Trainee and other entry-level opportunities. Please note that industry placements may begin as soon as the training at MAMA Youth finishes or there may be a gap, so candidates must ensure they are available.

Interviews: 1st Stage Interviews will take place remotely on Zoom from the 28th of March – 7th of April and due to high numbers of applicants, interview slots are not flexible.

If successful, candidates will be put through to the 2nd Stage Group interview that will be an all day workshop at the Sky TV Campus and will require attendance in person following government health and safety guidelines. 2nd Stage Interviews will take place between the 11th -14th of April 2022.
Apply to train in one of the following roles:

We don't require experience, as participants are thrown into the deep end under strict supervision. All we ask is that the person is completely dedicated and committed throughout the training programme.
Trainee Sound Recordist
You are interested in sound, enjoy solving technical issues, enjoy being on set, practical hands on work. Sounds like you? Click here to download job description
Trainee Production Manager or Trainee Production Coordinator
You are a leader, highly organised, like enabling other people's work, enjoy making sure everything is running smoothly, as well as an admin geek. Sounds like you? Click here to download job description.
Trainee Content Producer
You are creative, full of ideas and think outside the box. Sounds like you? Click hereto download job description.
Trainee Video Editor
You enjoy seeing things come together, have IT skills, have good attention to detail, love piecing together other people's vision and don't mind working long hours on your own. Sounds like you? Click here to download job description.
Trainee Camera Operator
You are interested images, enjoy solving technical issues, enjoy being on set, practical hands on work. Sounds like you? Click here to download job description.