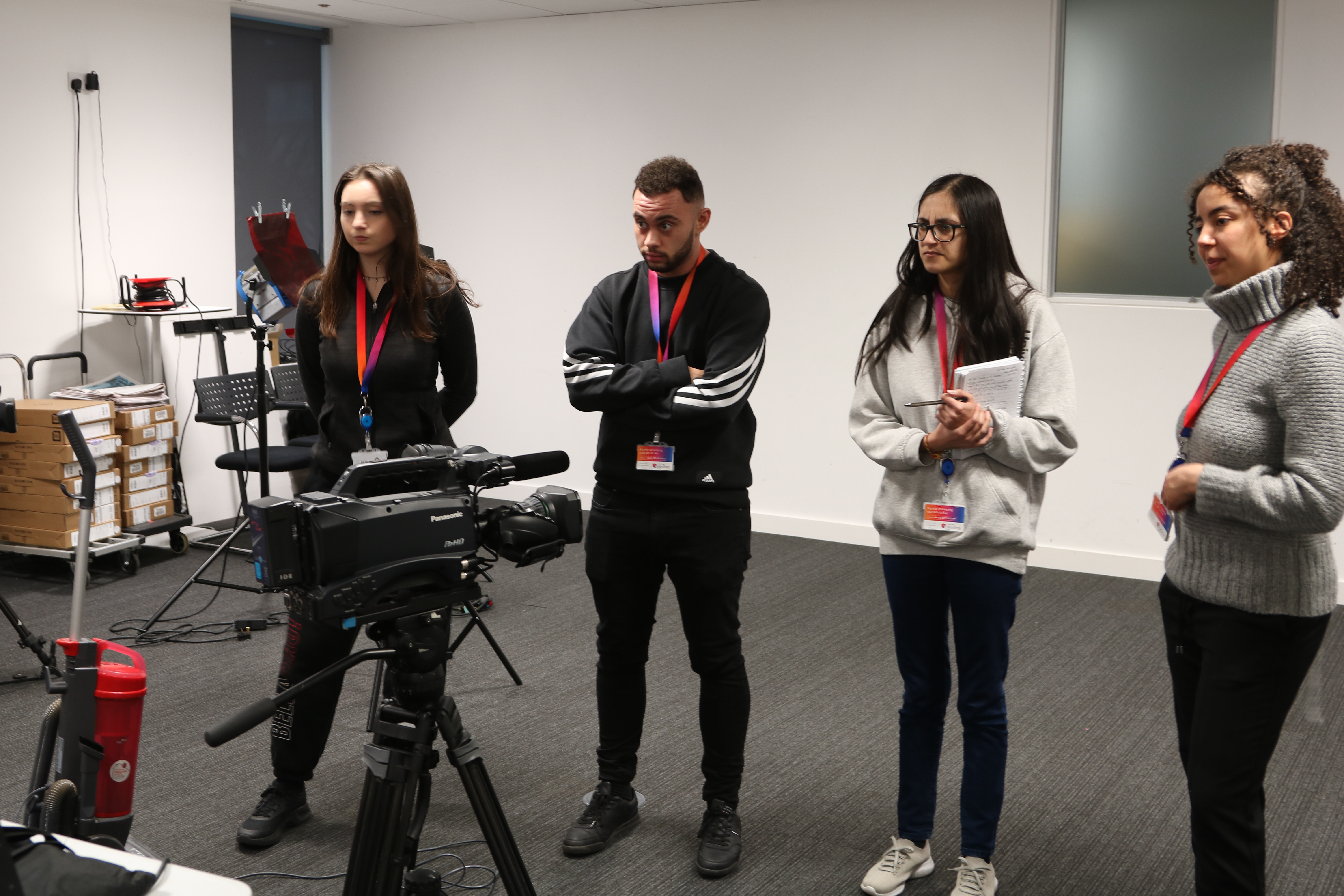 A unique aspect of MAMA Youth's training model puts participants into a 'real- time' work situation during which they perform independently, as well as in a tightly knit team, producing content for Licklemor Productions, the BAFTA award winning production company committed to making diverse content for diverse audiences.
With guaranteed placements at industry partners such as Warner Bros, The Farm and Sister Pictures, candidates from the latest cohort are now embarking on their media careers - watch this space for these Alumni on the Fly!
Bob Clarke, CEO & Founder MYP and Licklemor Productions - "I'm full of admiration for how this group of creative, fresh talent have worked so hard to overcome their challenges and succeed. When the trainees first arrive at MAMA Youth, they are often in awe of us, the team, as we are already the industry professionals they aspire to be – by the time they leave, it's us who are in awe of them! I am proud of every one of them, I see the dream they had and see where they are now and am even more excited to see what's to come."
Scheduled for spring starts, recruitment for two more training programmes was well under way this month, with record numbers of applications – Digital Media Training and TV Production Training will see a further 46 young people from traditionally underrepresented and challenging backgrounds or those with limited opportunity, receive a life changing chance to gain instant industry access.
Mariana Magnavita, Outreach Manager MAMA Youth Project said, - "We know the value our training and placement opportunities give to young people and to tangible outcomes for the industry's aim to become more inclusive and we want to ensure that as many potential participants as possible get the chance to benefit. We're delighted this month to have engaged with so many young people as well as high-profile industry professionals, through our information sessions, immersive workshop days and panel events."
A welcome endorsement for such events came from VIP guest and Minister for Employment at DWP, Mims Davies MP who joined MAMA Youth Project's Broadcast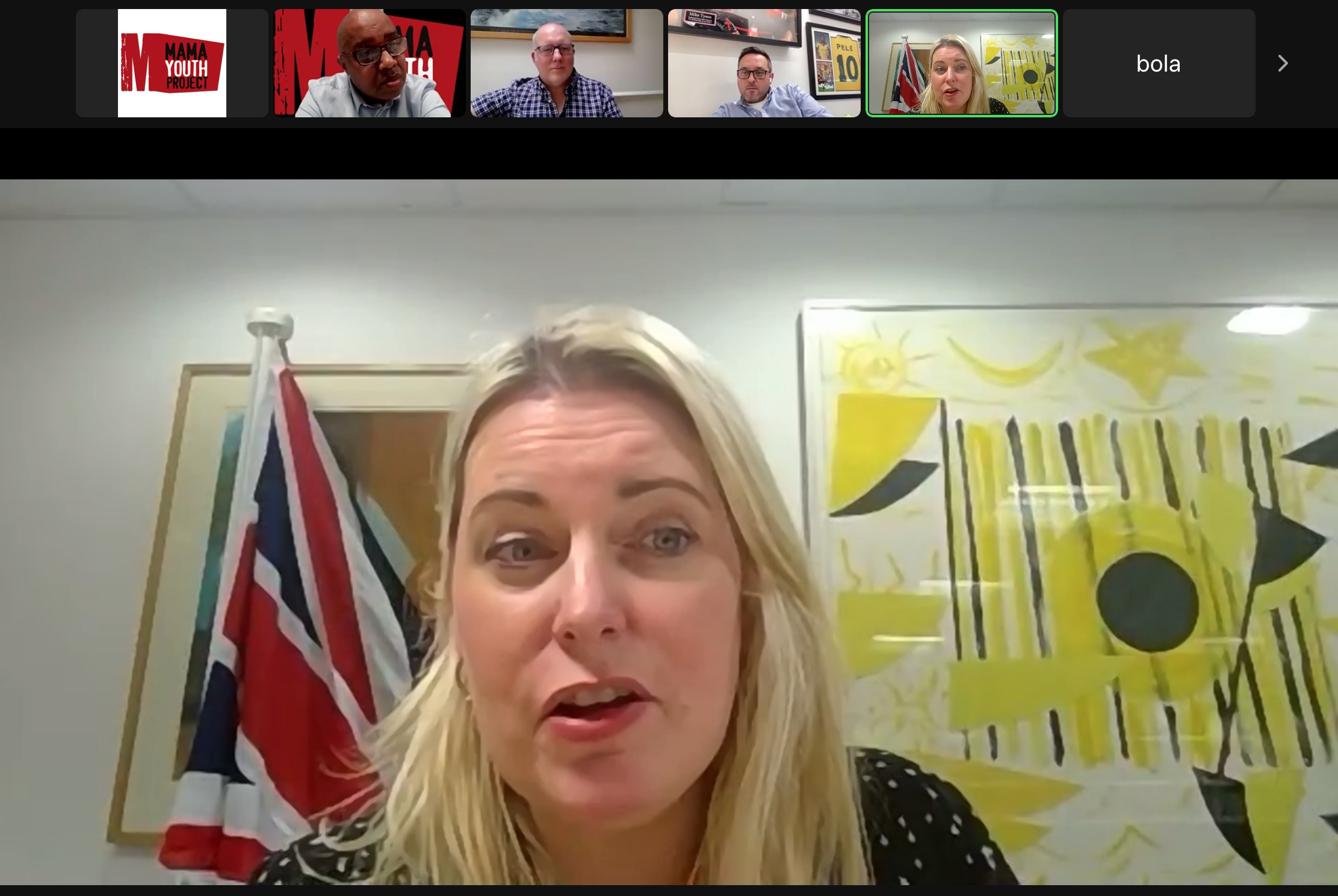 Media Mentoring Circle in partnership with the Department for Work and Pensions, on 21st February to hear from an expert panel and engage with 150 attendees.
The free event aimed at those wishing to break into the digital and broadcast industry and Job Centre claimants across London and Essex, created engagement, honest discussion ad career advice from industry professionals.
Chaired by Bob Clarke MYP and Ombola Odutayo DWP with an expert panel including, Steve Cox - Senior Development Manager, Content, Technology and Innovation at Sky, Melissa Holton – Video Editor at Sky, Jarrod Ball - Comedy Development Assistant at Sky, Scott Melvin - CEO & Co-Founder, Buzz 16, winners of the Broadcast Sport Awards 2021 and Rio Clarke – Senior Assistant Producer, Buzz 16 and MAMA Youth alumni.
Next up, TV Presenter Suprina Thapa hosted How to Get Into TV, MAMA Youth Project's exclusive panel discussion for those craving a career in television. Suprina was joined by Bob Clarke in his capacity as Executive Producer for Licklemor Productions, Benedetta Pinelli, Commissioning Editor, Sky Arts/Sky Arts Hub, Gisela Asimus-Minnbergh, Executive Vice President, Sales & Distribution – EMEA at ITV Studios, Danielle Graham, Executive Producer Storyvault, Bianca Hamilton-Clarke, Talent Manager Banijay and Andrea Hebrard, Sales Executive, EMEA at ITV Studios.
With abundant advice from the heavyweight panel, the event attracted a multitude of creatives eager to learn how to get a foot in the door. Attendees found out how each of the panellists got started in the industry as the experts shared their journeys as well as top tips to succeed, such as needing curiosity, tenacity, emotional intelligence and adaptability and only being as good as your last job - so be sure to always work hard!


Hard work prevails and it's congratulations to MAMA Youth's senior management team for securing a two-year partnership with Impetus who closely align with the charity's mission and will help support growth momentum to aid MYP to become sustainable.
Impetus transforms the lives of young people from disadvantaged backgrounds by ensuring they get the right support to succeed in school, in work and in life.
They find, fund and build the most promising charities working with these young people, providing core funding and working shoulder-to-shoulder with their leaders to help them become stronger organisations.
They join forces with other funders to find programmes that work and make them bigger so that many more young people can benefit.
They influence government, civil society and the public to show them that change is possible, remove policy barriers and unlock funding so that every young person gets the support they need.
"We are delighted and honoured that MAMA Youth Project has been recognised by an organisation with the profile, experience and commitment to charity that Impetus has in abundance. We are extremely grateful for the support of Impetus in our mission to positively impact society and the media by giving young people from underrepresented groups access to the industry. I am excited by this collaboration and the prospect for maximising potential that I know Impetus will bring", - Cristina Ciobanu, Director of Operations MAMA Youth Project.